Torres Del Paine is listed by National Geographic as one of the top 50 locations to visit before you die. So with our new big day pack accommodating our enormous over-stuffed medical kit, our hard-core Northface wind and rain protection gear, brand new multi-purpose Swiss Army knife and never-say-die attitude, the JeTZ were ready for their 5 day hike to see the gem of Patagonia.
Things started off very well when on entering the national park, we were greeted by a
guanaco
(yes, it looks very similar to the
vicuna
and no, we dont know the difference). If you look closely in the background on the right hand side, you can make out Torres del Paine - three enormous phallic rock formations battered into their odd shape by the wind.
The first glimpse of the Paine was just a teaser. We would not see them again until the last day. In the meantime, we hopped onto this catamaran and headed away to our
refugio
which was more like a monolithic monstrosity and less like the cosy
refugio
we stayed at on top of
Tronador
!
It was on this catamaran we got our first taste of the infamous Patagonian high-speed winds. Look at the bizarre shaped clouds above!
The following day we hiked 11km to see the spectacular Glacier Gray. As you can see, we dressed expecting some pretty bad weather...
...but after 15 minutes of uphill climb, the gear had to go! Unfortunately this meant exposing TZ's so called 'one size fits all' wet weather pants.
The first sign of Glacier Gray was when we saw this rather small looking block of blue ice floating in the river.
On closer inspection it wasn't actually that small!
After devouring our packed lunch our bags were bit lighter but our tummy's were a lot heavier. Luckily we were only half way there and had plenty of time to burn it off.
We had been following the 'W' trail, so named because the path is in the shape of a giant 'W'. Here you can see our first view of Glacier Gray.
Up close, the glacier looks a lot more impressive. We spent some time exploring the area despite the crazy winds giving Jez a rather severe case of a bad hair day! (TZ took a more preventative approach wearing a headband, but Jez wouldnt hear of it.)
Gathered in a bay opposite Glacier Gray was this collection of bizarrely shaped ice blocks which just begged to be played with!
Jez was pretty disappointed having found some of the freshest ice in the world only to be without a bottle of Jack Daniels.
Would TZ like to replace her diamond engagement ring for this beauty? hmmm maybe not.
Here Jez is trying out for the role of Patagonian Neptune...
While Jez was getting into the spirit of things, TZ was somewhat disillusioned to find this wasn't exactly the beach holiday she had hoped for...
With the advantage of perspective you can see that the collection of icebergs we had frolicked amongst in the bay were really only babies compared to some of the larger children that had calved from Glacier Gray.
The following day we hiked a little off our trail and closer to the glacier to get an even better view. We discovered that ice trekking on the glacier was possible but unfortunately a big group of whinging Poms had taken all the spots. When we found out that the group was staying at our
refugio
kitted out with walking poles, brightly coloured lycra gear and had their own sherpas, we were even more unimpressed!
It was back to work for us as we left the glacier and continued along the 'W' track.
We arrived at our
refugio
severely battered by the wind. It was impossible to walk in a straight line with the wind blowing our backpacks, and hence us off course. When we had a look at the weather forecast for the 03/01 we were rather shocked to see the conditions we had just braved!
The following day we headed off to discover the French Valley.
This was our longest and most demanding day yet. The 21km hike took about 10 hours and did not go exactly as planned. For a start, sections of the path needed a bit of work...
...but the real dramas began when TZ's knee started to give problems 4 hours into the hike. She was all smiles for the camera but when the camera was off she hobbled like an old woman for another 4 hours until finally she agreed to swallow her pride and borrow a hiking pole from one of the Poms.
Miraculously, the following day TZ's knee had recovered and she handed the pole back to the Poms who clearly needed it more than her to cross this river...
Truth be told, this river crossing was a lot more difficult than it appears. The current was ferocious and we had to hop from stone to slippery stone with our backpacks catching in the wind and throwing us off balance. While Jez was congratulating himself for making it across in one piece he realised that hidden somewhere in that Aramaic wedding contract he was obliged to return to the middle of the river and rescue his stranded wife.
Here is Ursin, our friend from the
Navimag
demonstrating with typical Swiss efficiency that the shortest route between two points is a straight line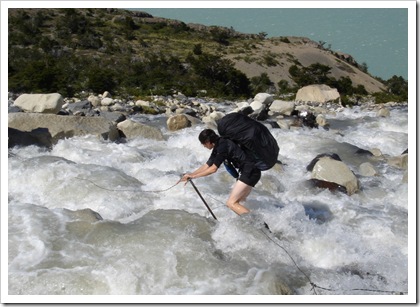 After the river shenanigans a quick kip was in order.
In Torres del Paine it is possible to see pumas, condors, mountain goats, hares, and other exotic Patagonian beasts. Unfortunately for us we only saw lazy Poms and this woodpecker, which funnily enough is called
carpintero
in Spanish.
A few days into the hike Jez developed a nasty fever. TZ's knee also started to play up and with only a few hours remaining to their last
refugio
, neither were sure whether they would actually make it. Through these ordeals the JeTZ began to feel as if they had been wandering aimlessly in Patagonia for 40 years. Here you can see TZ looking over the valley towards the Promised Paines pondering if they would indeed see them before they died...
Stay tuned for the second episode of our Torres del Paine blog to find out if the JeTZ would be permitted to step foot in the
refugio
of milk and honey.