The last couple of weeks TZ and I have been lucky enough to sample some of the more peculiar local customs here in Europe.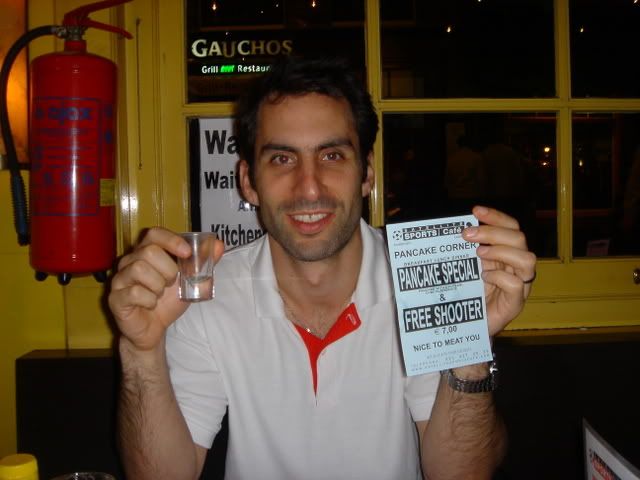 It all started when TZ took me to Amsterdam to celebrate my birthday. Actually, I don't remember what happened after that. I know that we got on a plane at Heathrow, and then it all gets a bit sketchy. I think it was a bit like in Wizard of Oz when Dorothy clicks her heels together and then woosh - she was back in Kansas. Except in this case Dorothy was wearing Clogs, and not much else.
Amsterdam has many unique cultural offerings. There is the Heineken factory, the canals, the sex shops, and the lovely ladies who are keen to offer you a "smoke and a pancake" or a "bong and a blince". Apparently there are also some seedy blokes called Rembrandt and Van Gogh to check out, but I felt safer staying on the main drag where it was well lit (albeit with a red tinge).
The locals are trapped in a time warp (too much time spent in Amsterdam coffee shops can have this effect) and were convinced that they were still participating in the Dutch Resistance. As a consequence they provided TZ and I with all sorts of mis-directions so that we couldnt locate Anne Frank's house. Try "go to the canal and turn right where the hooker with hairy legs is standing in a window". Well there is a canal on every street, and a hooker standing in every window!
My actual birthday (Halloween) was during the working week, so TZ took me out to our local pub, the Spaniard's Inn. This is a wonderful pub dating from 1585 built originally as the country residence of the Spanish ambassador. The pub gained notoriety as the hide-out of the legendary highwayman Dick Turpin. He was a Pommy Ned Kelly if you like. Anyway, legend has it that Dick was actually born at the Inn. Ever since he was hanged in York in 1739 Turpin's ghost has haunted the pub. All this naturally made a fabulous backdrop for our Halloween celebrations. The place was creepily decorated with pumpkin lanterns and the like, and I enjoyed a pumpkin pie with my ale.
The following weekend TZ and I were lucky enough to be treated to a trip to Leicester to watch the Leicester Tigers in the domestic rugby competition from the comfort of a corporate box. Fortunately I remembered to bring my glasses so I could see the sport. In the end it didnt make any difference as I soon discovered that top-shelf Scotch was part of the catering in the box. After the game the players came back for a meet and greet. Unfortunately most of Leicester's international players were away that week due to the England vs NZ game the following day, but I did get to meet a couple of Samoan internationals. I asked them for a photo, but was careful to wait until after they finished their dinner. They reminded me of staffordshires. You know, all cuddley and cute, but don't even think of getting between them and their food.
That night TZ and I decided to stay in Leicester to enjoy the local Guy Fawkes celebrations. There is something to be said for watching the burning of an effigy on a bon-fire, followed by a massive fireworks display. I dont think anybody knows anymore whether they were celebrating with or against Mr Fawkes, but its a bloody good excuse to let off some fireworks. Speaking of which, TZ and I were excited to be able to buy our own, which we set off on my birthday to the alarm of some neighbours. Apparently it is legal to buy fireworks, but not to set them off in public places. Who would have thunk it?